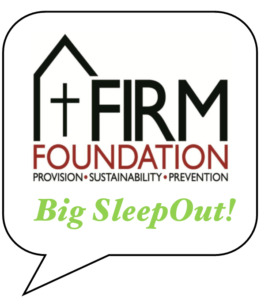 FirmFoundation have teamed up with the prestigious Harrow School for the Big SleepOut!
This is our first year of the Big SleepOut! with Harrow School, spaces are limited and we are looking for people who are able and willing to raise sponsorship to sleep out overnight. You can represent an organisation, be part of a group or just be yourself. This is a fantastic opportunity to highlight Harrow's homelessness, raise money for FirmFoundation and be part of a unique event with our charity and Harrow School.
We will support your fundraising efforts through the provision of information, photos and stories of those whose lives have been changed by FirmFoundation; the creation of your own fundraising page within our website; and speakers for any fundraising events you put on in the run-up to the Big SleepOut! to help you achieve your target. The deadline for applications is Monday 26th February 2018, and you will be notified within two weeks whether you have been successful in gaining a place. The Royal Charter granted to Harrow School by Queen Elizabeth I includes reference to its pupils giving
"

a very good example to all others

"

– will you join them in helping us to do something positive for the homeless in Harrow?
0
Weeks
0
Days
0
Hours
0
Minutes
0
Seconds