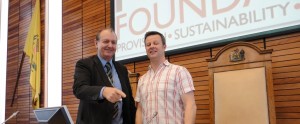 Jon Dalton head of Housing Needs and Julian Saunders FirmFoundation Charity Manager
FirmFoundation Chairs Harrow's Single Homelessness Forum
FirmFoundation's vision to end Homelessness in Harrow is a serious undertaking. No one organisation, charity or council can accomplish this task on their own. Challenges such as this require a co-ordinated and sustained approach.
FirmFoundation encourages the view that any substantial work should include Voluntary Sector Organisation's, Statutory Bodies and the Council. In this way services can be made more robust across the borough regardless of which organisation a person approaches as their first point of contact.
FirmFoundation are pleased to be part of this process by chairing Harrow's 'Single Homelessness Forum'.